We are driven by results and relationships, always.
At Marabek, we seek to drive immediate impact and accelerate sustainable operational change. Our core values of accountability, trust, credibility, teamwork, character, service excellence and personal growth are at the heart of everything we do at Marabek.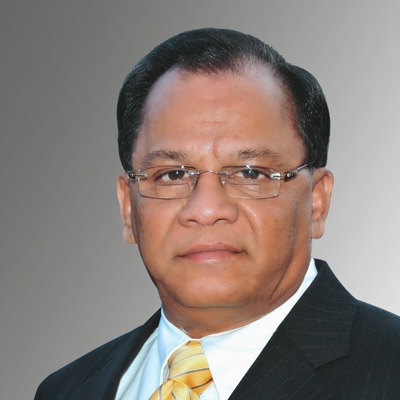 Harish Doshi - Partner
Specialized in Manufacturing Operations, SIOP, Supply Chain, Chemicals, Engineering, Finance, Mergers and Acquisitions
Harish is an active Partner at Marabek who brings over 30+ years of expertise in various operational and technical roles with a strong background in chemistry and mechanical engineering. His expertise continues to be in helping global manufacturers in a wide range of industries maximize efficiencies and increase profits. He is a value driver specializing in developing innovative strategies and operational templates to expand margins through asset optimization and utilization.
Since 2002, Harish continues to advise several clients in the area of manufacturing and operational efficiency. He is an expert in identifying Key Performance Indicators (KPIs) and realizing operation efficiency and synergy. He maintains a strong record of successes helping public and private manufacturing companies more efficiently utilize their assets, improve maintenance margins, and enhance green environmental footprint. Some of his leadership roles include design of mechanical systems, assemblies, electro-laser optics, and parts.
Some current and former clients include Pratt & Whitney, GE, Boeing, Northrup Grumman, General Dynamics, Textron System, Ingersoll Rand, Lear Industries, Pepperidge farm, Keurig Dr. Pepper among others.
Many of Mr. Doshi's operational advisory services are related to capital intensive enterprises, which operate in high-speed/high-volume production environments. His focus are in industries usually suffering from a shortage of skilled, semi-skilled workers and qualified managers. In the absence of required skill sets and expertise, he has often been asked to step in and design, implement and monitor strong asset reliability programs to improve bottom-line results. Most recently, he has been extensively involved in leading regional management teams of production and manufacturing clients with facilities across the United States producing Beverages, Food & Snacks, Consumer Packaging, Dairy-Milk and Canned/Packaged Foods.
Harish provides PEs, institutional, public and privately owned companies with professional advisory support in technical and financial assessment, and guidance for current and future Property, Plant & Equipment (PP&E) assets and improved EBIDTA performance for manufacturing clients. In addition, Harish drives full-scale study of an enterprise assets, it's operations to determine actual value, based on output and ability generate future cash flow. He advises stakeholders and companies how to determine actual real value of an enterprise by reconciling financial records, production output, hard asset valuation, and any intellectual properties.
Based in Pennsylvania, Harish holds a Bachelor of Science in Chemistry from J.P. Arts & Science College, India and Mechanical Engineering Casework from University of Illinois, Chicago, and is currently pursuing Charter, CFA (Charter Financial Analyst). He also holds serval certifications in technical and engineering.