+ Company
Process Driven Plans & Results

Measured to deliver compelling economic value appreciation to our clients and stakeholders through controlled improvements in EBITDA, cash liquidity (availability), and topline revenue growth. See our averaged results for clients who witnessed higher outcomes from Marabek's DMAIC driven process. With our advisors, we increase probability of success by 91% vs. self-managed business planning.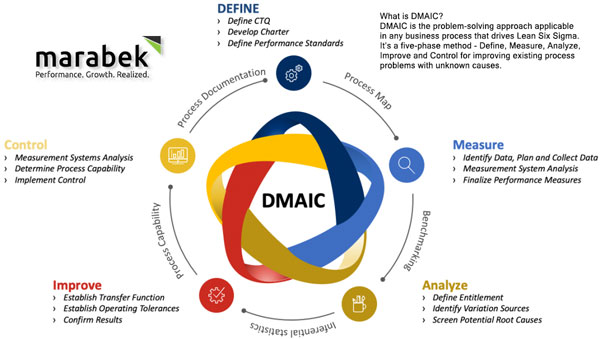 DEFINE
Make sure you define what problem affects your company. What does success look like? Without this step, you might be solving the wrong problem. Start with a good value stream map of your operations.
MEASURE
Before you can improve, you need to know where you are. This is often laborious and time-consuming, but critical. Are you seeing measurable results right now? if not, can you start documenting your processes.
ANALYZE
Figure out why things are wrong, broken, or not working. The majority of analytical tools fit in here: fish bone diagrams, Pareto charts, maturity models, business cases, waterfall charts, RACI charts, RFPs etc. . .
IMPROVE
Make the change. Too often companies want to make changes internally and fail in program and change management, and politics busting. Most cases, fail to set clear accountability and strategy settings.
CONTROL
Key process controls are needed to ensure sustained continuity of improvements in the company. Requires collaborative support for the importance of ongoing diligence, vigilance, consistency, and habit.
Marabek Audit & Planning
Our DMAIC methodology beings and ends with audits of operations and financials using a simple 16 elements KPI process. Planning strategies gives confidence via our defined measured process.