Corporate Services
Peak operational effectiveness, efficiency, and excellence
What, how and why are important questions that drive the pursuit of excellence and result is sustained outcomes in every aspect of the company's overall strategy.
Performance management can be focused on the entire organization or its departments. Besides, it can emphasize the performance of individual employees. Thus, there can be three levels of performance management:
strategic performance management,
operational performance management, and
individual performance management.
Want to understand how to maximize your resources, achieve peak performance and strategic approaches to leveraging your teams? Reach out to us!
Building Collaborative Teams
Marabek is a leader in collaborative team designs with optimized operating models. We've mastered several methods to help accelerate change management processes by implementing a new operating model, a different strategy, new processes, migrating platforms, as well as re-focusing the business objectives. Compared to traditional change management processes, we have developed deep employee engagement systems to achieve a win-win result.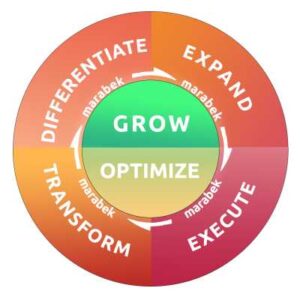 We provide process analysis, operational KPIs, technology implementation, strategy development, and organizational improvement plans. With our strategic advisory team, Marabek brings proprietary methodologies and frameworks to guide the identification of problems and to serve as the basis for recommendations for more effective or efficient ways of improving performance for sustained outcomes.